Back
Grace Foods UK to sponsor UK's number one summer soul festival
Grace Foods UK to sponsor UK's number one summer soul festival
Sponsorship of Margate Soul Festival is part of Grace's year-long celebrations to mark 100

th

anniversary

Festival will also celebrate its 20

th

anniversary as well as 60 years of Jamaican independence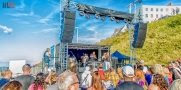 Grace Foods UK, the number one supplier of Caribbean food and drink to the UK*, is marking its 100th anniversary by signing up to be the headline sponsor for the UK's biggest soul festival, which will be celebrating its 20th anniversary this year.
The three-day Margate Soul Festival is taking place from 5-7 August and Grace Foods UK will be sponsoring the Sunset Stage at the event, which will be renamed the Grace Special Edition Jamaican Style Jerk Sunset Stage, which overlooks the beach in the town.
The stage will provide the backdrop to two days of live music and DJs, and on 6 August, it will host a day-long celebration to mark the 60th anniversary of Jamaican independence. Grace Foods UK originates from Jamaica, with parent company Grace Kennedy's global HQ based in Kingston, Jamaica.
Grace Foods UK sampling team will be handing out sachets of authentic Jamaican jerk paste across the festival site and the wider Margate town for three days.
Food concessions in the festival site will be using Grace Jerk sauces and seasonings, and as well as being the headline sponsor for the Sunset Stage, Grace Foods UK will also have a brand presence in the broadcast studio, wider festival site and the VIP launch party on the Friday night. The festival will be broadcast live on the UK's leading soul music station Mi-Soul.
The Jamaican Independence Day session on the Saturday off the festival starts at 4.30pm on Saturday with DJ Natty B who runs the reggae show on Mi-Soul, followed by performances from Vivian Jones, a heritage reggae act, Calvin Francis DJ, and Kofi from Brown Sugar and Soul II Soul.
Other performers over the weekend include: US singer Melba Moore; "Native New Yorkers" Odyssey; 90s Chicago House Legends Ten City; 'Defected Records' Julie McKnight; Emeli Sande; The Brand New Heavies; Loose Ends; and 'Lovers Rock Queen' Carroll Thompson.
Singer-songwriter, house, jazz and soul vocalist, Juliet Roberts will curate an exclusive performance, celebrating the life of Aretha Franklin and new UK modern soul band SouLutions headed by Louise Mehan.
Talking about sponsoring the Margate Soul Festival, Vandu Patel, Marketing Manager for Grace Foods UK, says: "With Margate celebrating its 20th anniversary and Jamaica, the original home of Grace, marking 60 years of independence, this seemed like the perfect opportunity to bring Grace's iconic jerk sauces and seasoning to festival-goers at Margate.
"To mark 100 years of Grace, we launched gold-label, special-edition bottles of Grace Jamaican-style Jerk BBQ Sauce and Dunn's River Special Edition Jamaican Jerk Seasoning, which will be available at the Margate festival.
"Sponsoring the Sunset Stage also gives us the opportunity to celebrate 60 years of Jamaican independence by bringing artists from Jamaica to the Margate festival. It's going to be a great weekend.
"Margate Soul Weekender is unique, being the only town centre festival in the UK, offering both ticketed and non-ticketed events attracting more than 20,000 per day and we are truly honoured to be part of this, the UK's number one soul festival."
* SOURCE: IRI UK Caribbean Food & Drink, Retail Sales - 22 May 2022.
- ­ENDS -
Media contact
Angie Cronin
Loudbird PR and Communications
07970 810302
About Grace Foods UK
Grace Foods UK is the UK's leading supplier of authentic Caribbean food and drink.

As a member of the global Grace Kennedy Group, headquartered in Kingston, Jamaica, Grace Foods is guided by a strong global company with significant expertise and passion for developing iconic and innovative Caribbean products.

Grace Food's brands and products are national favourites and have been at the forefront of Caribbean food worldwide for 100 years, including market-leading brands Nurishment (nutritionally enriched milk drinks), Encona Sauce (hot pepper sauces), Grace, Dunn's River and Caribbean Choice (Caribbean beverages and general grocery ranges) and exciting new mainstream Caribbean street-food brand, Irie Eats.
For more information, please visit:
Facebook:@gracefoodsuk

Instagram:@mightymaltuk

Twitter:@

gracefoods.uk