£390,325 earned through parking and the moving traffic offences scheme in 2016/17

Figures have been released showing how much the City of Cardiff Council has earned through parking enforcement and the Moving Traffic Offences Scheme (MTO) in the last financial year.
04 May 17
Station Road in Llandaff North will close this weekend for resurfacing work

Resurfacing work will take place outside the new Lidl Store on Station Road in Llandaff North this weekend.
03 May 17
Council's Love Where You Live campaign gets tough on litter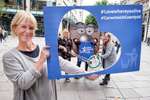 More than seven tonnes of extra litter and debris were removed from three parts of Cardiff when 38 streets were given a deep clean.
25 April 17